May through September usually means warm or even hot weather here in Indiana. It also means sun, UV rays, and increased risk of skin damage, including melanoma.
The hazard comes for harmful UV rays. UV rays can damage skin cells. Beyond causing wrinkles, it can alter skin cell DNA resulting in cancer. The risk of exposure is not lessened because it is cloudy outside. UV rays can still reach the ground, even with cloud coverage. And the risk isn't nu ll in the shade. UV exposure can be direct, like working shirtless or standing directly in the sun hatless, but it can also be indirect. UV rays can be reflected off many surfaces including paved roads, water, grass, sand, and more.
When UV rays alter skin cell DNA, it can result in Melanoma. There are more than 9,500 diagnoses of Melanoma daily with one person dying of Melanoma every hour. This cancer is extremely prevalent. Females under age 49 are more likely to develop Melanoma than any other cancer besides breast and thyroid cancers. Males under 49 are more likely to develop Melanoma than any other cancer.
The risk of developing skin cancer is high because UV damage is cumulative. Twenty-three percent of UV exposure occurs by the age of 18, so that still leaves a lot of UV exposure as you go into those working adult years. Risk does increase by 70 percent for those who experience five or more blistering sunburns between the ages of 15-20. Once you burn, the damage to the skin cell DNA has already been done. Those with skin type one (pale, white, freckled, always burns never tans) also have an increased risk of developing skin cancer. But anyone, age or skin type aside, can develop it.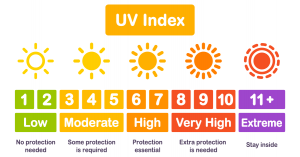 To help reduce your risk of being exposed to hazardous UV rays, there are steps you can take. First, check the UV Index daily. This index, developed in 1992 and adopted by the WHO in 1994, rates the risk of harm from unprotected sun exposure. The scale ranges from 1 to 11, with 11 being the most risk. Again, cloud coverage does not mean it will be low. A recent cloudy Thursday afternoon had a UV Index of 7. Check it daily to ensure you're informed and can help minimize your risk.
Also, to help protect yourself you must protect your skin. This can be done in several ways. First, choose clothing that covers your skin. Long sleeves, long pants, and wide brim hats are great. Clothing that has built in SPF protection is even better. Second, if you're spending the day outdoors, in the sun or shade, lather up with sunscreen. A sunscreen of at least SPF 30 is recommended. It's important to regularly reapply every two hours and to apply everywhere, including your ears! Also, avoid tanning beds. Using a tanning bed is directly exposing your skin to UV rays. Last, be preemptive in your health and get regular skin screenings.
John Foster, host of 1010 AM Columbus stumbled into a skin cancer screening clinic one day after moving to Columbus, IN. That was how he caught multiple Melanoma spots. He has since had five spots removed, including two on his legs (the result of UV rays bouncing off a road he worked on during his time in the U.S. Air Force). He now attends regular screenings to catch and address any new Melanoma spots quickly.
Listen in as Kevin King talks more about melanoma, the hazards of UV rays, and how to protect yourself.
Want to hear more talks from Peter and Kevin King? Tune into WCIS 1010 AM Columbus, IN the first and third Friday of every month for People's Law Talk.
Learn more about sun safety and skin health from these expert sources:
You can also easily check your local UV Index with the EPA or by searching "UV Index" with your zip code.