OUR FIRM
J. Kevin King, Esq.
Throughout his lifetime, Kevin King experienced the dedication and hard work ethic his father, Arthur D. King, committed to the practice of law until he passed in 2007. He joined his father in the practice of law in 1988 after serving approximately two years with the United States Army Trial Defense Service. Upon returning to Columbus, he developed a regional- and national-based practice addressing civil law issues.
Kevin King's drive to ensure consumer products are safe evolved from his childhood conversations with Leon D. Cline, a devoted consumer lawyer and his father's law partner. Kevin realized at a young age that people were needlessly injured and/or killed as a result of hazardous products. His consumer legal practice was further shaped by Harry Philo, a renowned warrior for people.
Kevin King believes the primary purpose of tort law is the prevention of serious injury and/or death. Kevin incorporates systems safety engineering principles to identify hazards (unsafe physical conditions that can cause serious injury or death) and ways to eliminate said hazards through design.
Kevin King has been involved in consumer safety cases, primarily automobile related, across North America, including but not limited to Alaska, Arizona, California, Colorado, Florida, Illinois, Indiana, Iowa, Kansas, Kentucky, Maryland, Massachusetts, Michigan, Missouri, Montana, New Hampshire, New Jersey, New York, Ohio, Pennsylvania, South Dakota, Texas, Utah, Virginia, West Virginia, and Canada.
Kevin King has been a member of the Society of Automotive Engineers since 2002 and has attended several of its seminars including, but not limited to: Fundamentals of Steering Systems, Tire & Wheel Safety Issues, The Tire as a Vehicle Component, Occupant and Vehicle Kinematics in Rollovers, Role of the Seat in Rear Crash Safety, 2004 Automotive Dynamics' Stability Controls, Designing Safer Vehicles, Vehicle Dynamics for Passenger Cars and Light Trucks, etc.
Kevin King has also attended seminars by the University of Akron, College of Engineering, Department of Mechanical Engineering entitled "Tire Mechanics Short Course" and STL Trans Tech Transportation Technologies entitled "Tire Technology Seminar."
Practice Areas:
Consumer Safety Advocacy; Product Liability; Automobile Design; Rollover Litigation; Tire/Tube Design; Commercial Truck Litigation; Motorcycle Design; Aerial Lift Design; System Safety Analysis; Personal Injury; Wrongful Death; Construction Litigation; Premises Liability
Volunteering for Veterans:
As a former JAGC officer Kevin King has volunteered since 2016 to the local Veterans' Treatment Court. He is a mentor to veterans who are assigned to him. He also supports veteran organizations such as AMVETS, Veterans of Foreign Wars, and Pets for Vets.
Education:
T.C. Williams School of Law, University of Richmond, J.D., 1985; Indiana University, B.A., Forensic Studies, with honors, 1981
Melinda (Mindy) J. Nobbe
Mindy started part-time at Cline, King & King in 1990 while finishing her studies at Ivy Tech State College. Ultimately, she graduated from Ivy Tech with degrees in Administrative Office Technology and Computer Science Technology and is yet to work a part-time schedule. She has mastered every task that might cross the desk of a legal assistant over her tenure at Kevin King's office and does so with true compassion for our clients. A dedicated employee of CKK for 30+ years, Mindy has earned her reputation as an exceptionally capable and trustworthy legal assistant and office manager.
If you look up loyalty in the dictionary, chances are you would see a photo of Mindy Nobbe as her years of service has shown. She is not only dedicated to her work and our clients, but also to her family, close friends, and beloved Labrador, Kylie. When off the clock, Mindy spends much of her free time at one of her 11 nieces and nephews' sporting or 4-H events, and hanging out with her family or close friends.
Natalie J. Hinton-Jennings
Natalie began working at Cline, King & King while finishing up her studies at Ivy Tech State College. After graduating Summa Cum Laude in 2003 with a degree in Office Administration with a specialty in legal work, she continued full-time as a legal assistant for a number of years. After several years working full time at a different office, Natalie returned to CKK as a part-time legal assistant, working nights and weekends.
Throughout her years at CKK, Natalie has embraced the "law dogs" mentality and has a passion for helping see cases through to their just and right outcomes. In her free time, she enjoys true crime documentaries, volunteering, and spending time with her husband and three chihuahuas, Dulce, Chi-Chi & Elvira, "the Little Lawdogs".
Dr. Nahir Loyo
Dr. Nahir Loyo is a physician with 25 years of medical practice in Venezuela, where she specialized in dermatology and participated in a residency program in internal medicine. Throughout her career, Dr. Loyo has been an active member of the medical community, writing scientific articles, speaking at numerous national and international meetings, and chairing conferences and symposia. She has represented her fellow dermatological professionals both nationally and internationally as a member and the President of the Board of the Venezuelan Society of Dermatology, as a Delegate at the International League of Dermatological Societies, and as a Delegate at the Annual Meeting of Latin American Dermatologists.
In the United States, Dr. Loyo assists Cline, King, and King in medical-legal matters by reviewing and summarizing medical records and analyzing injuries, prognoses, and long-term impacts of injuries, among other tasks. Her work and opinions are supported not only by her own outstanding professional qualifications, but also by a worldwide network of medical specialists with whom she consults that she developed through her academic work over her esteemed career. Dr. Loyo alternates her medical-legal counseling with her academic work by teaching Anatomy and Physiology at Ivy Tech Community College in Columbus, Indiana. Dr. Loyo also speaks Spanish in addition to English, and hopes to assist clients from diverse communities more effectively
Suzanne Jackson
Suzanne has lived most of her life in her home state of Indiana, barring a few years in the deep South. After many years as a real estate professional, she discovered her love of the legal profession when a paralegal friend asked for help managing documents in a lawsuit and she worked evenings part time. Shortly thereafter Suzanne obtained her Paralegal Certification from Indiana University and has enjoyed an interesting career that has now led her to Cline, King & King.
The joy of Suzanne's life are her two grandchildren and she enjoys every opportunity to boast about them like the proud grandmother she is. When not working or spending time with the grandkids, she enjoys drumming in a Dejembe Drum Circle, attending festivals or music concerts with friends, and shopping at farmers' markets.
Megan Valek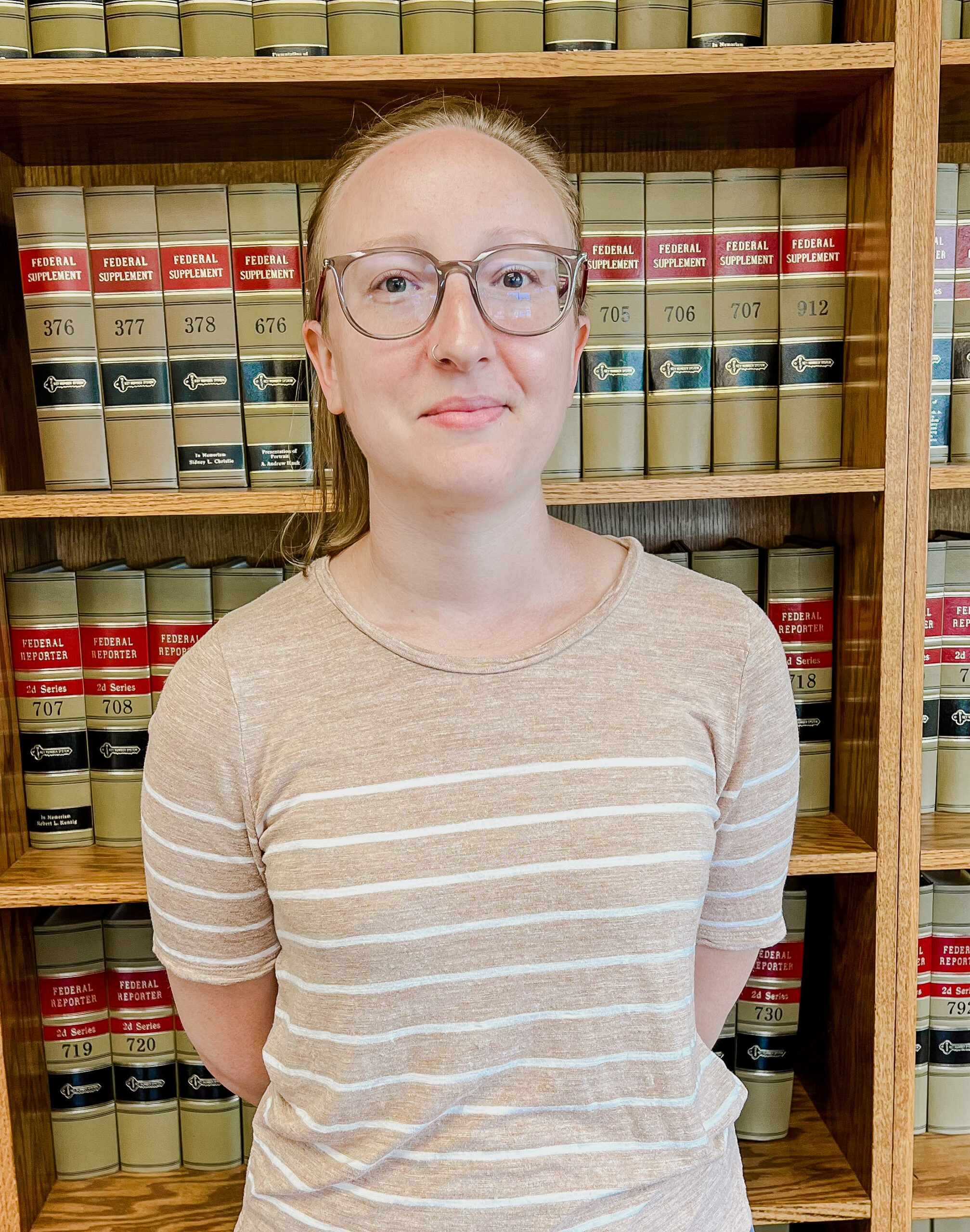 Megan has lived in Columbus since 1997, and now resides here with her husband Jason as well as their two cats, Lily and Jim Dandy, and dog, Max. She graduated from Indiana University Purdue University Columbus (IUPUC) in 2016 with a Bachelor of Business and concentrations in Marketing and Management as well as a minor in psychology. She went back the following fall after getting married to complete course certificates in Case Management and Substance Abuse, as well as four American Sign Language classes. In 2021, she graduated from the University of the People with an MBA.
In her free time, she enjoys hiking Indiana state parks and the Hoosier National Forest, as well as reading. She has been to 38 states and hopes to make it to all 50, as well as to travel Europe in the future, especially to revisit Iceland where she lived for 2.5 years as a child. She also enjoys going to concerts and festivals when time and funds allow.