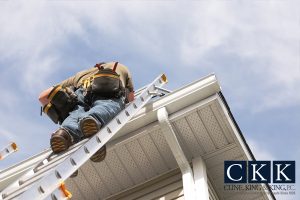 Gutter cleaning and holiday decorating seasons are upon us. These quintessential fall and winter outdoor home projects have one thing in common, a lot of ladder usage by homeowners like yourself.
With more than 500,000 people treated in emergency departments each year due to ladder falls, it's clear ladders pose safety hazards of which many consumers are not aware. In the construction industry alone, there are approximately 115 deaths annually due to falls from ladders. Falls like this cost society more than 24 billion dollars annually for medical bills, legal costs, lost wages, etc.
For many though, ladders are a necessary part of life to complete work and chores. Even with the safety hazards they pose, ladders will continue to be used so it's up to manufacturers to design safer, easier to use equipment. Consumers like yourself should also know how to choose and use the correct equipment for the job.
Listen in as Kevin King discusses the hazards ladders pose, what designs to look for when choosing a ladder, and how to safely use your ladder.
For more information on choosing a ladder and ladder safety:
Visit AmericanLadderInstitute.org
Read OSHA Report 3625
Also, don't forget to download the Niosh Ladder Safety App before you begin using your ladder.
Want to hear more talks from Peter and Kevin King? Tune into WCIS 1010 AM Columbus, IN the first and third Friday of every month for People's Law Talk.