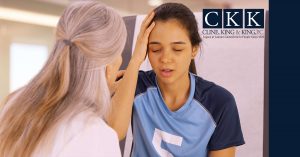 With eight million boys and girls playing high school sports in 2016 and 2017, it's expected that some will get hurt. What's unexpected is the number of concussions that are happening. Annually, there are 3.8 million concussions from competitive sports and as many as half of them will go unreported in youth sports. That's a lot of concussions and a lot of recovery time for young athletes.
Football is commonly associated with concussions, but they come from many other sports as well. The leading organized sports at the cause of most concussions are football, wrestling, soccer, and girls' basketball. Females in playing basketball and soccer have higher concussion rates than males because the female anatomy is different. Youth are also different in their concussions in the fact it can take them much longer to recover due to their developing brains. 
As a parent or a volunteer, inform yourself about the prevalence of concussions then learn how to recognize, prevent, and treat them as needed. Listen in as Kevin King discusses all about concussions, including what causes them as well as how to recognize, prevent, and treat them, all on People's Law Talk. 
For more information and resources on youth concussions and prevention visit the CDC's Heads Up website. Also review this articles:
Moreno, M. A. (2012). Youth Sports and Concussion Risks. F Archives of Pediatrics & Adolescent Medicine, 166(4), 396. Retrieved August 16, 2018, from archpedi.jamanetwork.com/data/Journals/PEDS/23311/pap120002_396_396.pdf.
Concussion recognition tool 5©. Br J Sports Med 2017;51:872https://bjsm.bmj.com/content/51/11/872.
Retrieved August 16, 2018, from
CDC. (2015, December). A Fact Sheet for Youth Sports Parents. Retrieved August 16, 2018, from https://www.cdc.gov/headsup/pdfs/youthsports/parents_eng.pdf
Want to hear more talks from Peter and Kevin King? Tune into WCIS 1010 AM Columbus, IN the first and third Friday of every month for People's Law Talk.