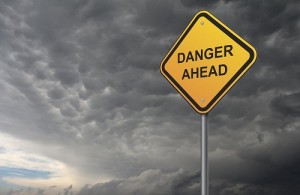 Imagine you're out on the green for a round of golf the last nice day of fall. You're on hole nine, a 400 yard fairway and there is a sand trap at the end of the hole. A sand trap isn't what you want to see on this nice day but thankfully for you, the sand trap holds no danger to you while on the tee.
The sand trap is a hazard. A "hazard" is an unsafe physical condition that can result in serious injury, death, and/or property destruction. "Risk" is the probability of an undesired risk occurring. Danger is the unacceptable combination of hazard and risk. Even though the sand trap is a hazard, the sand trap is 400 yards away so the risk of your golf ball coming into contact with the hazard while on the tee is very small. Accordingly, there is no danger for your golf game.
However, after you hit the ball from the tee, and the ball gets closer to the sand trap, the risk of the golf ball coming in contact with the hazard increases. As the risk increases, the danger is becoming greater for you the golfer.
As you come very close to the sand trap, the risk increases greatly; accordingly, your danger increases.
The same principles apply for designing safe products and procedures. It is best to eliminate hazards to the extent reasonably possible. When doing so, it eliminates the risk of serious injury and/or death. Accordingly, it eliminates danger.
Safety is a science that analyzes hazards, risks, dangers, and safety engineering alternatives. Hazard and risk analyses are critical and necessary components to determine if products and systems are safe.
As consumers, we assume that designers of products and systems understand these principles. Unfortunately, more times than not, these principles are not followed to prevent serious injury and/or death.
Stay with us as we explore the dangers being overlooked in products and systems. You may be surprised by what you learn.